Architecture structures that takes design in to the next level in Cyprus!
Apostle Peter and St. Helen the Martyr Chapel
Architects Michail Georgiou
Location Paphos, Cyprus  (34°77'29.449″N 32° 43'52.93″E)
Architectural Design Michail Georgiou, Theresa Kwok
Area 0 sqm
Project Year 2015
Structural Engineer Odysseas Georgiou
Light Design Kyriaki Pafitou
Contractor Ioannou Constructions LTD
Owner/Sponsor Petros and Elli Georgiou
Entrance Free
A chapel in Cyprus designed by architect Michail Georgiou is a contemporary reimagining of the local orthodox ecclesiastical architecture. The Apostle Peter and St. Helen the Martyr Chapel, in Pafos, Cyprus contains a narthex, a nave, a side aisle, a sanctuary and a prothesis, the standard elements of a traditional double-aisle vaulted orthodox temple, but packs all of this into a tiny area of only 600 square feet. The many-domed structure of typical orthodox chapels has been transformed by Georgiou into a single sweeping form which makes up both the walls and roof of the chapel.
For More Info:
http://www.e-architect.co.uk/cyprus/apostle-peter-and-st-helen-the-martyr-chapel-in-pafos
http://www.archdaily.com/772253/apostle-peter-and-st-helen-the-martyr-chapel-michail-georgiou
http://www.dezeen.com/2015/08/27/greek-orthodox-chapel-cyprus-michail-georgiou-two-humped-profile-curved-form-paphos/
2. Leventis Art Gallery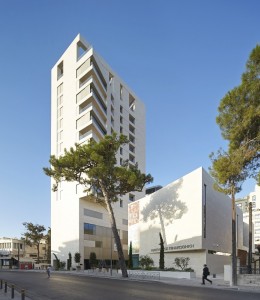 Architects Feilden Clegg Bradley Studios
Location Nicosia
Project Year 2014
Local Architect                 J&A Philippou, Cyprus
Project Manager RESDE DPM, Athens
Main Contractor GCC Iacovu, Cyprus
Construction Value £21,000,000
Entrance Depending on Exhibition
The design concept seems to have at least three points of origin:
Existing Feilden Clegg Bradley buildings that have something of the same chiselled sculptural qualities and carefully composed disjunctions – Broadcasting Place in Leeds, and the Persistence Works, Sheffield, spring to mind;
Clegg's fascination with Aalto, Corb, and Ando;
His interest in archaic structures such as the 12th-century Bete Giyorgis church at Lalibela, Ethiopia, hewn directly out of volcanic rock strata.
For More Info:
 http://www.leventisgallery.org/home
http://www.archdaily.com/562320/leventis-art-gallery-feilden-clegg-bradley-studios
3. Vlassides Winery
Architects Eraclis Papachristou Architects
Location Koilani, Cyprus
Design Team Eraclis Papachristou, Yiannos Tsiolis
Area 0 sqm
Project Year 2014
Structural Engineers Earthquake Protected Structures- George Demetriades, Nikos Kalathas
Mechanical Engineer Michalis Gregoriou
Electrical Engineer Christos Christofi
The building for Vlassides Winery is organized within a system of parallel walls aligned with the sloping contours of the site. The entrance and the location of the interior spaces create panoramic views to the vine fields, to the winemaking and storage rooms equally, benefiting the visitor with a general experience of the winemaking process.
For More Info:
http://www.vlassideswinery.com/el/home
http://www.cy-arch.com/european-union-prize-for-contemporary-architecture-mies-van-der-rohe-award-2015/
4. Co Op Bank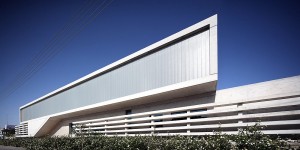 Architects amsa
Location Kiti, Larnaca District, Cyprus
Architects amsa / Nektarios Afxentiou, Anargyros Mougiakos, Zoi Stasinopoulou
Civil Engineers Leonidas Ioannou
Contractor Kallis Lysiotis LTD
Client Synergasias Co-op bank
Budget EURO 1,300,000
Area 0 sqm
Project Year 2009
Amsa's office building for the Synergasias Co-op Bank contains office space and conference facilities for use by local village communities. The office, which is situated close to existing commercial buildings and a local high school, creates a continuous linear barrier from passing heavy traffic. The various functions of the building are arranged in groups around the central atrium in order to distinguish the function of the banking from other activities. The internal layout of the building and the horizontal and vertical circulation are projected on the elevations, which are built of fare faced concrete surfaces, curtain walls and glazed sections. Emphasis was placed on the quality of natural and artificial light, depending on the function of the internal spaces. On the ground floor large glass openings are shaded by concrete and wooden shades, which allow natural light to enter.
For More Info:
https://www.architectural-review.com/archive/office-building-for-the-synergasias-co-op-bank-in-kiti-cyprus-by-amsa/5217809.article
http://www.blueverticalstudio.com/co-op-bank-in-kiti-by-amsa/
http://www.archdaily.com/100109/co-op-bank-in-kiti-amsa
5. White Walls (Tower 25), by Jean Nouveau
Architects Ateliers Jean Nouvel
Local Architects Takis Sophocleous Architects
Completed April 2015
Usable Floor Area 6,739 sqm
Gross Floor Area 10,000 sqm
Next to Eleftheria Square, close to the medieval walls and the moat that enclose the old part of the city, Jean Nouvel Tower 25 rises 16 floors above ground and reaches approximately 70 metres.
On the south façade, large planting areas on each floor that run the length of the building are planted, so as to create a vertical "green" screen modulating the sunlight that reaches the interior of the apartments. A natural brise soleil, it protects the apartments during the summer months, while during the winter months, when the plants shed their leaves, it allows as much sunlight as possible to reach the interior of the apartments. On the east-west elevation, concrete walls deal with the technological in its most emblematic form: The walls are negated by the numerous perforations, an ethereal reference to the pixels of a highly enlarged image on a computer screen.
On the north elevation, one gets the sense that the building is expanding and contracting, as the large balconies slide in and out, modulating their width and depth on each floor.
On the top two floors, a duplex apartment is organised around a central courtyard, a typology common to traditional Cypriot architecture. The apartment is protected from the summer sun by three large shades set at different angles reminiscent of an "exploded" hipped roof.
For more Info:
http://www.dezeen.com/2016/03/14/ateliers-jean-nouvel-nicosia-cyprus-tower-25-plants-perforated-walls-office-housing-block/
https://en.wikipedia.org/wiki/Tower_25
http://www.niceday.com.cy/Default.aspx?_Page=Available&_Control=_PropertyDetails&_Content=89&_Options=1205
http://www.designboom.com/architecture/jean-nouvel-pixelated-white-walls-tower-nicosia-cyprus-03-09-2016/