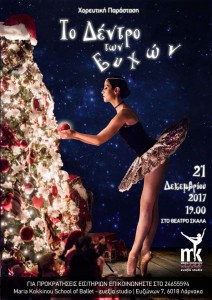 Maria Kokkinous's ballet school will present a performance based on her own magical fairytale called ''The tree of wishes''.
The performance will take place on the 21th of December at 19:00 pm at "Scala" theatre in
Larnaca.
Pre – sale tickets at the school's secretariat from 1st of December at the price of 10 euros (Tel: 24655594)
This performance it is suitable for all ages and will put everyone in the magical Christmas spirit!
This magical fairytale was written by Maria Kokkinou and it's about a real city, a city like this!  It's a Christmas fairytale and you can purchase it from Maria Kokkinous's ballet school or from the performance and all the money from the fairytale will be allocated to Cyprus association for children with cancer and related diseases "One dream, one wish''.
Link: https://www.facebook.com/events/1540092879441684/