Talking about the trends that celebrities are showing to us on the red carpet at the CFDA Awards.
I always like these glamorous, fashion events or celebrations. You are going to think that CFDA awards are old news, why is she even talking about them? But, these events always show to us what new trends are going to rule the next season and inspire us in what we should buy for our wardrobe immediately!
Celebrities, singers, top models and all these people we love seeing in the magazines are always dressed with the "last word" of fashion. Beyoncé, not Queen B by mistake, wears a striped suit by Givenchy. A suit is a "must have" for all women, not only for work but for a party or an event you have to attend. Next, top models Rosie Huntington and Emily Ratajkowski are wearing maxi slip dresses in Michael Kors and Jason Wu. Slip dresses and metallic colors are the hit of this summer, easy to wear at day and night and they give you a sexy and chic look at once. Exactly what you are looking for, right?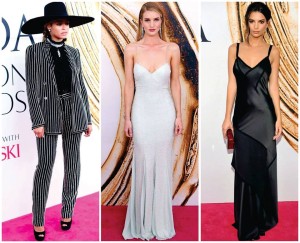 Nude, what a color! This summer you need something in nude, we saw this color in winter and now in summer it came to flatter you even more and show of our tan! Ciara in Roberto Cavalli and Joan Smalls in Eddie Borgo show us that nude and off shoulder details came to stay for long as they soften your look.
Last but not least, red. Wear something red and I think you are going to have all the eyes on you. Emily Weiss and Irina Shayk in Misha Nonoo both in red, both left us breathless. Suits are trending but jumpsuits as well. One piece that immediately upgrades your wardrobe and they are so easy going. I'm very inspired by all these people of fashion industry and probably I will try and experiment with these trends. What about you, are you into these??
Photos: www.harpersbazaar.com
By Anna Michael