Kalia is a passionate artist, fashion designer, stylist and she owns the boutelier " Guns. N. Heels". She runs the brand "Kalia Nikiforou" and she awarded in Greece as the Best Designer of the year. Her collections are featured by her unique style of mixed & matched fabrics. Also stylish rock details characterize her collections.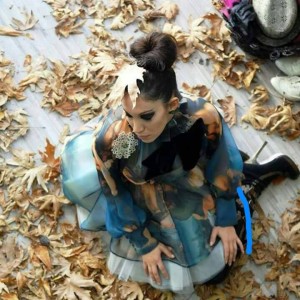 She will present her AW2016/17 collection at Fashion First this Sunday 6 of November
One can find her collections at  THE BOUTELIER GUNS.N.Heels, Nicosia.
FASHION FIRST
Fashion First is a new concept of Fashion Presentation event that aims:
– The presentation of Fashion Designers' work to the general public, press & buyers
– The creation of a strong Network and the exchange of Information on the Fashion Creation industry
– To be the highest profile fashion designers showcase in Cyprus
Each designer can participate with:
– An exhibition Presentation
– A show Presentation
The Organiser's Statement:
Blurred Mission Statement:
Our mission is to create the most related and reliable news product in the industries of Fashion, Art & Design. We provide network and directory to the community of Arts & Design in order to add value to their work!
More info:
https://www.facebook.com/events/579913805532149/