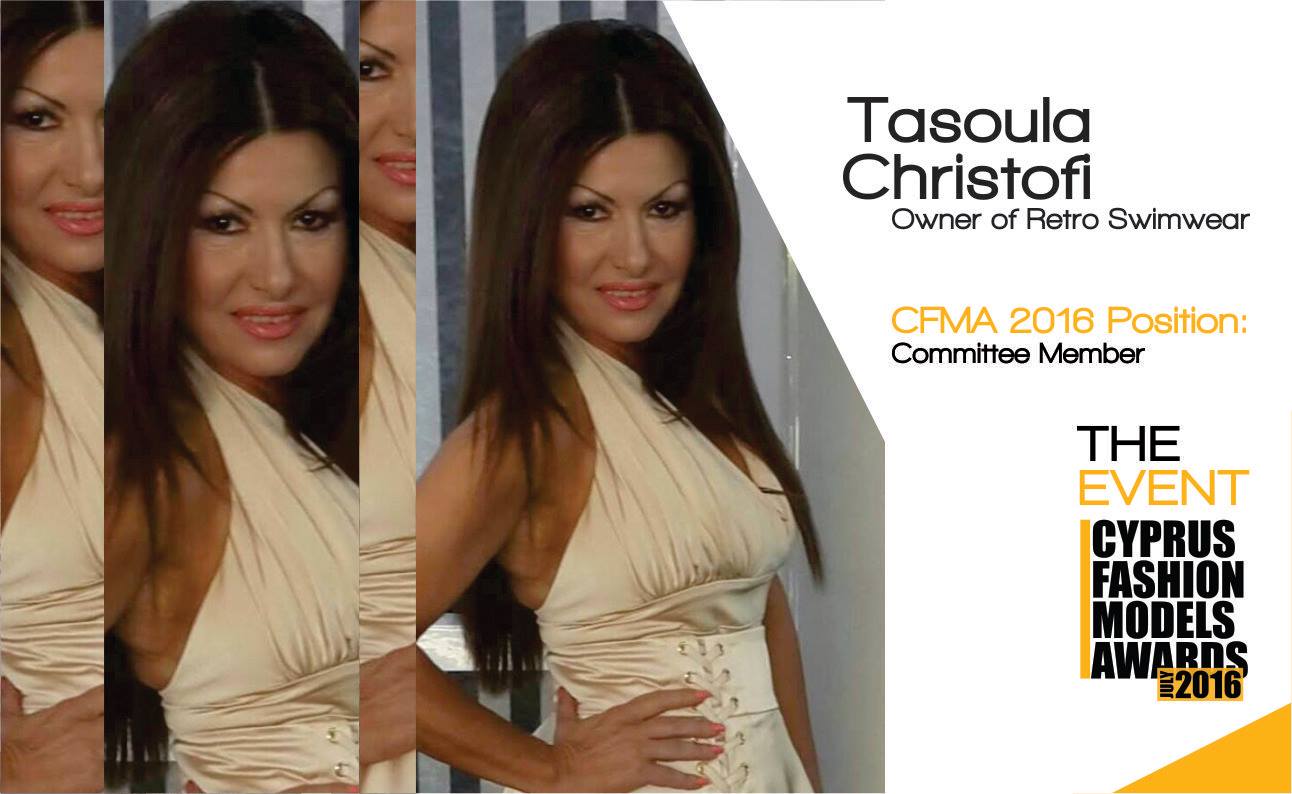 Honored to have Mrs Tasoula Christofi as a Committee Member of CYPRUS FASHION MODELS AWARDS 2016!
Mrs Tasoula is the owner of Retro Swimwear boutique downtown Larnaca. She is in the fashion industry for more than 15 years she participated in many Fashion shows and events including the "G. ENGLEZOS Fashion Show l Retro Swimwear''! Mrs Christofi is participating in Cyprus Fashion Models Awards as a Committee Member & Supporter for the 4th time!
CYPRUS FASHION MODELS AWARDS 2016 is powered by Umbrella Fashion Modelling School & Agency It takes place on Wednesday, July 27th at Galu Seaside in Larnaca from 20:00 p.m. to 1:00 a.m. The Mission of this Ceremony is to Award the best model of Cyprus for the year 2016!
Event: https://www.facebook.com/events/1680063985595576/
More than 100 male & female models between the ages 10 to 30 years old of all nationalities will participate for the ULTIMATE PRIZE! First prize is €3500 (€500 in cash and €3000 in presents in kind). There are 15 prizes in Total including the categories of Photogenic, Body, Publicity, Catwalk and Posing, Personality & Beauty. The models are being evaluated in these categories and the model with the highest marks out of the 100 total marks takes the Ultimate Prize!
The event is presented by Yiota Koufalidou! The Head of the committee is the famous fashion designer Mr Pantelis Panteli. The presentation of the evaluation process will be made by Mr Zacharias Petrou (Fashion Pr & Marketer & Co-Owner of Monoena Boutique). The coordination and presentation of the models will be announced by Mrs Andreana Violari. Performers of the Night are the famous singer Bo & Georgia Vrana! Special performances will be made by dancing groups. 40 (forty) distinguished committee members from the fashion industry, media, celebrities will assess the level of the models. Distinguished guests like Gregory Englezos and Anna Dorothea will be awarding the winners!