On a warm and special evening on 8th of June, the Mayor of Larnaca Andreas Vyras, ribbon-cutted the Xibit Art Gallery in Larnaca, in the presence of Members of the Parliaments and Municipality Counsellors. Shortly after 8pm the place had already been filled by hundreds of friends who wanted to get to know this new artistic space in the city center, which will be a pole of attraction for artists and arty audience. The XIBIT ART GALLERY hosted at its grand opening paintings by the artist Michalis Georgiou.
It is with great pleasure and satisfaction that we have found that there are people in our place who resist misery and spiritual poverty. In a society that supports and accepts worthlessness, the low taste, the discount of the spiritual and artistic values, every genuine artist tries to create and build oases of social resistance and rebirth.
This is exactly what the artist Michalis Georgiou, presented to us with his new work. His paintings belong to the category of spiritual work that speaks without the need of complicated interpretations. It aims first at the eyes and from there on at the viewer's soul. Eight paintings, eight different faces, unknown, silent. In a society that wants its citizens to live in the vulgarity of hypocritical oppressive silence, M. Georgiou calls on us to stand up. To stand up at the wrong idols and social standards, at the the fear, at unjustness, at inequality, at anything that hurts our soul. The voice that came out of him and told him this mighty MILA (speak up) is shockingly imprinted on his paintings. A painting exhibition full of substance and meaning, gives all of us the stimulus for new concerns and more progressive perceptions, that will help in a better and more humane way of living.
At a time where the arts bleed, XIBIT ART GALLERY is proud to house people of the arts of culture, giving breaths and opportunities not only to young artists but also to the arty audience in the heart of Larnaca.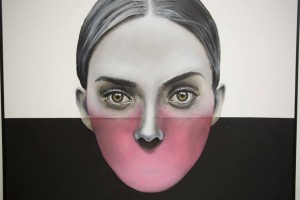 Photos: Kyriacos Americanos